Surrey Free Methodist Church
God Can Do More Than We Can Ask Or Imagine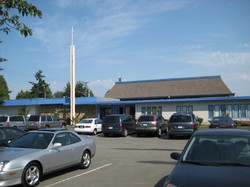 Surrey Free Methodist
Church
is a place of fellowship and worship. Our Sunday morning services begin
10:30 AM
at 12371 96 Avenue in
Surrey
,
BC.
Our Values
Our Purpose: The Free Methodist Church in Canada exists to make known to people everywhere God's call to wholeness through the forgiveness of our sins and holiness in Jesus Christ, and to invite into membership and equip for ministry to all who would respond in faith to serve in Canada & Abroad.
Surrey Free Methodist Church is an outreach of the Free Methodist Church in Canada (FMCiC)
I AM THE LIGHT OF THE WORLD
John 8: 12
Proverbs 29: 18
IT'S A GOD THING
The Free Methodists emphasize
SEVEN CORE VALUES:
Personal values, Church values, Team values, "Connectionalism," Integrity, Learning and Growth
Who We Are/Roots
Free Methodist Church in Canada: A movement of Christian congregations all across our country that are committed to sharing the good news of faith in Jesus Christ and encouraging believers into a life of ongoing transformation that impacts our families, our communities and our nation.